Members of Triathlon Victoria are rewarded with a membership package to enhance their triathlon experience.
Being a member is a great way to connect with your local triathlon club and mix with people who share similar values. Whether it's keeping fit, staying active or just looking to expand your social circles, joining a club is a great way to access a supportive network to enhance your triathlon experience.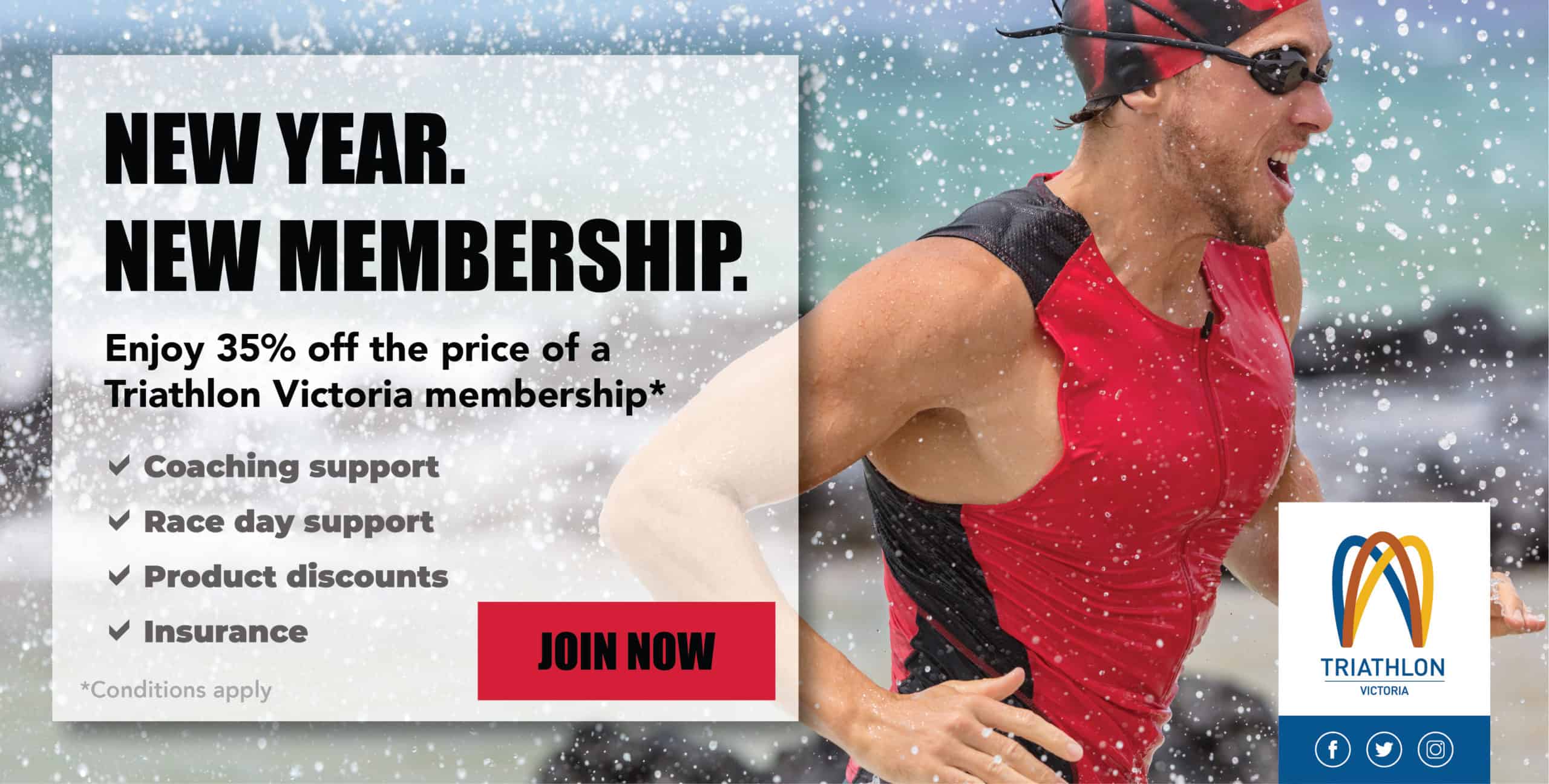 MEMBERSHIP DISCOUNT
Our discounted membership is available to anyone that hasn't previously been a Triathlon Victoria member. Adult, junior and family membership option are available as part of the offer. Please use the applicable redemption discount code below during the sign-up process. Offer commences from January 1, 2020, and will expire on June 30, 2020.
| | |
| --- | --- |
| Adult Membership: | DISCOUNTEDADULT |
| Junior Membership (5-11yrs): | DISCOUNTEDYOUTH |
| Junior Membership (12-19yrs): | DISCOUNTEDJUNIOR |
LEARN MORE & BUY NOW
---
MEMBERSHIP BENEFITS
When you join Triathlon Victoria, you also become a member of Triathlon Australia and your local triathlon club. Having a membership with us removes the need for a One Day Licence, which non-members are required to purchase to enter a race. Plus, depending on your membership, you can gain access some great benefits, which include: 
COACHING SUPPORT

Qualified club coaches are on hand to guide and support you pre and post-training to help you at every stage of your triathlon journey. 

RACE DAY SUPPORT

Leave your goggles at home? Your local club is there to help and support you on event day with the things you need to get you to the start line.

PRODUCT DISCOUNTS

Virgin Australia, Project Clothing, Oakley sunglasses, Normatec and TrainingPeaks are just some of the brands who offer discounts for Triathlon Australia / Triathlon Victoria members. 

INSURANCE

Public liability and personal accident insurance cover while racing in sanctioned events and training for sanctioned events for the duration of your membership. Further to this, a membership upgrade that includes access to travel insurance while training and competing overseas is also available.
---
MEMBERSHIP FEES
NOTE: *Each membership application transaction will incur a 5% fee charged by our system technology provider, Active Network. This fee includes credit/debit card transaction charges, as well as Active Network's registration and software management costs.  All prices include GST.
Club Member*
Non-Club Member*
Adult
Annual membership for individuals aged 20+ as of 31 Dec 2019.
$ 147.00
$ 243.00
Junior 5-11
Annual membership for juniors aged 5-11 as of 31 Dec 2019.
$ 35.00
$ 60.00
Junior 12-19
Annual membership for juniors aged 12-19 as of 31 Dec 2019.
$ 73.00
$ 122.00
Youth Draft Legal 14 – 15
Annual membership for junior athletes aged 14-15 as of 31 Dec 2019 & have been endorsed for draft legal racing.
$ 73.00
$ 122.00
Junior Draft Legal 15 -18yrs
Annual membership for junior athletes aged 15-18 as of 31 Dec 2019 who have been endorsed for draft legal racing.
$ 73.00
$ 122.00
Family Membership
We offer a discount of 20% off annual membership for families of 4 or more individuals. The family discount only applies to the following groups, as a minimum;

2 Adult memberships and 2 or more Junior memberships, or;
1 Adult membership and 3 or more Junior memberships

To receive this discount, select the 'Family/group' option when registering for membership. Please note that each adult within your family must have a unique email address.

Professional licence holders and Non-Competing / Non-Training members are not eligible for the 20% family discount
---
OTHER MEMBERSHIPS
For all coaching, professional athlete and non-competing/non-training member types, please click the button below to view these.
LEARN MORE
---
REFUND POLICY: Triathlon Australia/Victoria Membership fees once paid and processed, are not refundable other than in exceptional circumstances. Applications for refund must be made in writing to the relevant STTA Executive Officer, setting out the exceptional circumstances claimed. All applications will be considered by the Executive Officer on a case-by-case basis and the Executive Officer's decision on each case will be final. General injury from triathlon training and racing is not considered exceptional circumstances. Refund of membership fees will incur an administrative fee of $20.00 (inclusive GST), which will be deducted before membership fees are refunded.