The Triathlon Victoria Development Program (TVDP) provides a pathway to assist promising juniors to progress to the elite triathlon ranks.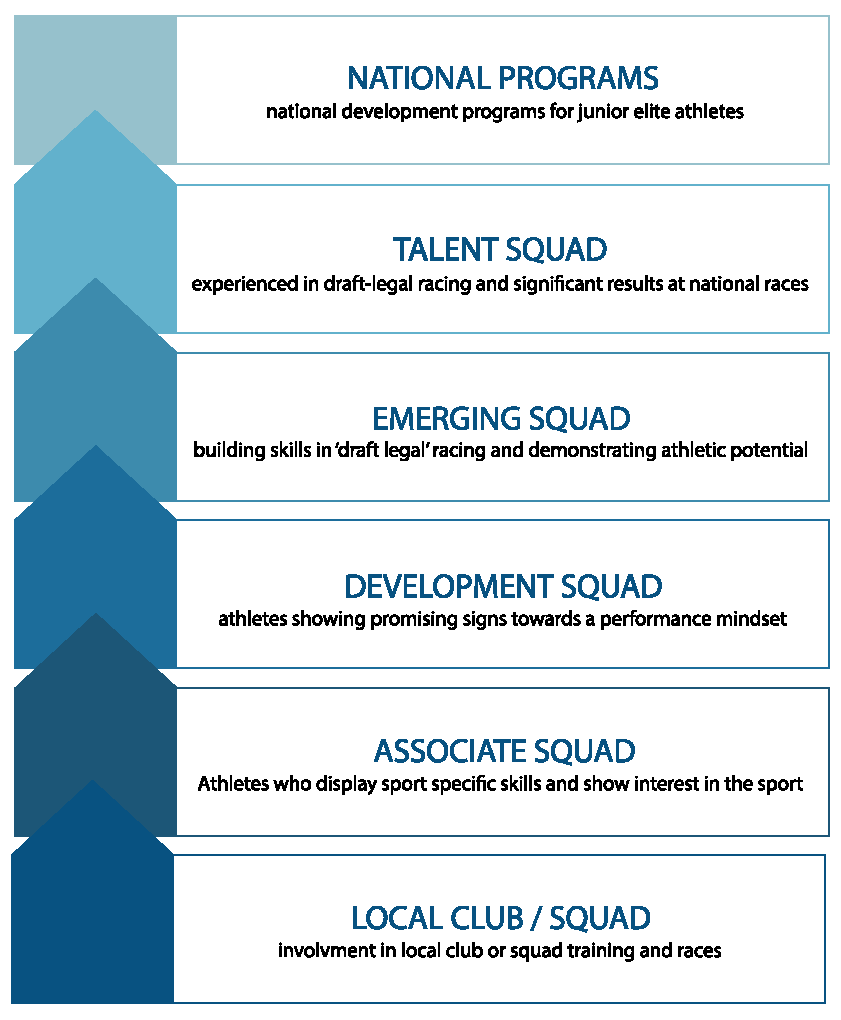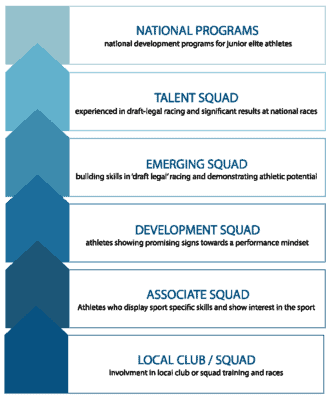 TVDP delivers a nurturing and supportive environment for athletes aged 13 to 23 years as they strive to train and compete at the highest level, and ultimately be the best they can be.
Program objectives
Assist the athlete with the skills & resources to participate and compete at state and national events.
Provide athletes with an avenue to pursue State and National representation.
Provide athletes with education and experience through the program coaches and affiliated experts.
Provide a team environment and foster a team spirit at State and National races.
---
Program structure
---
There are three tiers within the TVDP, with athletes assessed against the TVDP Selection Policy (see application resources below).
| | |
| --- | --- |
| Talent squad | for established ITU draft legal athletes who have achieved results at a National level. |
| Emerging squad | for athletes with the ability to race 'draft legal' or who have potential to achieve at a National level. |
| Development squad | for athletes beginning  junior or youth racing and competing predominantly at local events (VIC). |
The program also has an 'associate' arm, for athletes who display interest and potential in the sport of triathlon or are 'new' to the sport. 'Associates' are able to access training days, coaches, specialists and other TVDP members.
---
Program fees & benefits
---
2020-21 program fee is $400.00 + GST and provides athletes with the following:
Benefit
Further information 
Camps, training and development days

Invitation to all camp and training or development days that  focus on skill development including triathlon knowledge, nutrition, swim/bike/run skills, race tactics, sports psychology, athlete well-being, time-management, etc.

Coaching, mentoring  and support

Coaching and support at selected domestic events that includes – team tent, team warm-up and cool down, race days needs support such as – Victorian Duathlon Series, SSV triathlon events, 2XU Series, etc.
Coaching and support at NJTS (national events) in consultation with home coach if not attending.

Travel

Travel support and accommodation at National events (Note: All travel and accommodation is self-funded).

Selection

Eligibility to be selected for Mixed Team Relay (MTR) events with other state program athletes at national races.

Invitations

Invitations to selected athletes and coaches to attend National program activities.

Grants and discounts

Domestic events such as Duathlon, Aquathlon and 2XU Triathlon series events
Product discounts on selected items associated with the sport specifics of Triathlon (swim/bike/run)
Eligibility for travel grants through the TVDP. Triathlon Victoria annually seeks funding under the State Governments Elite Athlete Travel Grants which provides a travel subsidies.

Uniform

TVDP uniform including TVDP polo shirt and eligibility to wear the TVDP race suit
---
Eligibility
---
1. Athletes must be at least 14 years of age and no older than 23 years of age at 31/12/2021 and thus eligible to race in the following racing categories:
ITU Youth: 14-15 years of age as at 31/12/2021
ITU Junior: 16 – 19 years of age as at 31/12/2021
ITU U23: 20-23 years as at the 31/12/2021
2. Athletes must be eligible to represent Australia if required.
3. Athletes must be in good standing with both Triathlon Victoria and Triathlon Australia.
4. Athletes must have a coach who is 'accredited' by Triathlon Australia (and hold a current membership).
---
The process (key dates)
---
Athletes and parents or guardians should read the Selection Policy before applying.
| | |
| --- | --- |
| 1 June 2020 | Nominations open |
| 28 June 20 | Nominations close |
| July 6 (week commencing) | Offers to selected athletes made (and non-selected) |
| 13 July 20 | Acceptances must be received by Triathlon Victoria |
---
TVDP contact information
---
For further enquiries or questions about the TVDP, please contact Luke Bell, Triathlon Victoria Athlete Pathway Manager  via email  or call (03) 9598 8686.
TVDP Application Resources
The TVDP Selection Policy and a link to the online application form have been provided below. Please note, calendar is a draft and should be used as a guide only.