Beckworth Racing is excited to announce that former triathlete, endurance athlete and now sports Doctor, Mitch Anderson will be joining their annual Lorne training camp.
With a background in running and rowing at school, Mitch tried a triathlon in 1994. This led to an amateur career between then and 2002, until he raced professionally 2003-2015. Expertise in the IRONMAN distance led him to compete at the Hawaiian IRONMAN eight times: with a best placing of 11th overall. He mixed thirty Ironman finishes with four degrees, winning twice and dominating bike courses.
After finishing Physiotherapy (honours) at Melbourne University in 1997, Mitch transferred to Medicine at Melbourne Uni and completed his internship at Royal Melbourne Hospital, before signing off a graduate career of fourteen years with a diploma in Surgical Anatomy.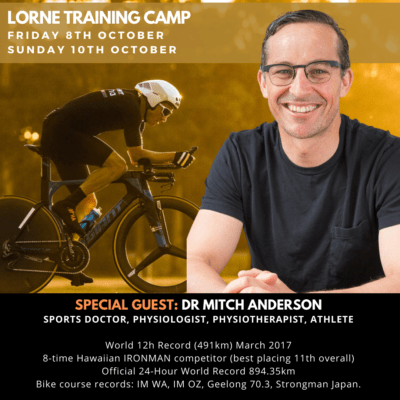 Mitch holds multiple IRONMAN bike course records, and most recently set a new official 24 hour World Record cycling 894.35km which equates to an average speed of 37.25kmh.
He is also the owner of Shinbone Medical which is a small community clinic in North Melbourne that offers a range of health and sports related services.
Mitch will be a fantastic addition to our camp and we are excited to have him join us!
---
CAMP INFO
---
DATE: Friday 8th October at 4pm – Sunday 10th October
Everyone is invited. You do not need to be part of the club to attend.
The BRT Lorne Tri Camp will be fully packed with fun, training, learning and laughs. The annual Lorne Tri Camp run by the Beckworth Racing Team is suitable for all levels.
Challenging training, a chance to gain more knowledge, and a great learning experience, plus it's a great way to meet new people who are passionate about the sport of triathlon. There will be 7 Triathlon Australia qualified coaches in attendance.