Find your nearest TRYstars Club.
Got a 7-12 year old that's keen to give triathlon a go? TRYstars might just be for them!
Run through local triathlon clubs or community groups, TRYstars aims to teach your child the fundamentals of triathlon.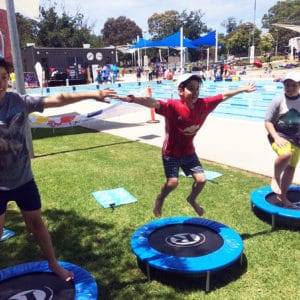 Delivered over eight one hour sessions, your child will get a feel for triathlon through game-based activities that involve swim, bike and run activities.
Various skills and drills will be included that promote good movement and encourage participation in all sports, such as agility, balance, coordination, speed, running, jumping, gliding, buoyancy, throwing, catching and kicking. Each program is delivered by Triathlon Australia accredited facilitator.
FIND A SESSION
To find out more about the TRYstars program, including Frequently Asked Questions, click here.
TRYstars Schools program
TRYstars also runs in schools, with a modified four session program that aims to expose primary school-aged children to the basic movement skills and fundamentals of triathlon through game-based activities.
TRYstars Schools program is delivered in partnership with the Australian Government and Australian Sports Commission under the Sporting Schools initiative. Schools can apply for funding of the TRYstars program under this initiative. For more information on TRYstars Schools, click here.